Did you know Black women are at higher risk for many health issues? Let's change some of the statistics - strive to live healthy.
If you are a Black woman and want to stay healthy, here are a few numbers and screenings to help keep your health in check.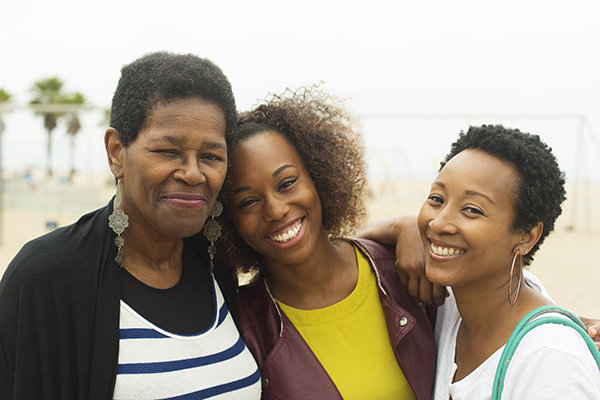 normal blood pressure range
of Black women have high
blood pressure (hypertension).
Preferred cholesterol range is less than

High Blood Pressure Can Lead to a Heart Attack.
Heart disease is the #1 cause of death in Black women.
Heart attack is a silent killer of women.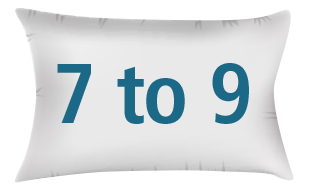 Recommended hours of sleep for adults. Poor sleep habits may bring a higher risk for chronic disease.
Black women who are 55+ have type 2 diabetes
4 TOP Causes of Death in Black Women

Cancer (breast, lung
and colon)



Symptoms of pelvic floor dysfunction may include:

Trouble urinating or having bowel movements

Leakage of urine or stool



Painful sexual intercourse
46% of Black women say they have been bothered by symptoms of overactive bladder (OAB).
2 risk factors for OAB are obesity and diabetes.
CANCER IS FOUND LATER IN BLACK WOMEN.
Top cancers are Breast & Lung. Bladder & Kidney cancer are less common, but more serious if not found early.
Every woman is unique, so talk with your doctor about the numbers and screenings right for you.
For more information, visit UrologyHealth.org.
Click the thumbnail below to download a Black Women's Health Checklist.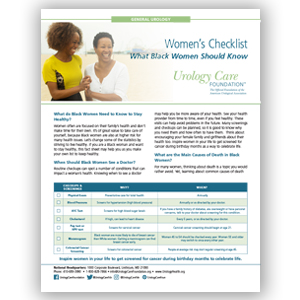 These resources were created in part due to a charitable donation from Astellas.
While exact causes are not known, the 3 most common causes in women are: