It's no secret the holidays bring around yummy foods and sweet treats all season long. Well, who's to say those treats can't secretly include healthy ingredients? This black bean brownie recipe is high in soluble fiber and plant-based protein, both of which help to maintain good heart health. But don't worry! You'll still taste the chocolate goodness of traditional brownies with this recipe.
Heart-Healthy Black Bean Brownie Recipe
This comforting, nourishing soup recipe, courtesy of Chef Mary Nolan, has a mix of protein, vegetables and love. It can be made in advance and stored in the fridge to enjoy for up to 5 days later.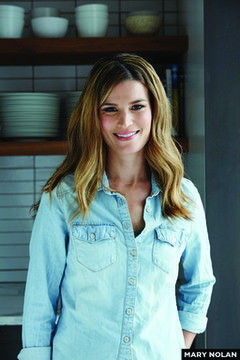 Chef Mary Nolan is a recipe developer, cooking instructor, host and enthusiastic eater. She is currently the Executive Chef at Bon Appétit magazine.
"You eat with all of your senses. Recipes curated by color will look beautiful and help you enrich your meals."
Total: 50m | Prep: 10m | Serves: 16
Nutritional Information:
Serving Size: 1 brownie
117 calories, 16g carbs, 3g protein, 5.3g fat, 31mg cholesterol, 49mg sodium, 92mg potassium, 1.4g fiber, 11.4g sugar, 20mg calcium, 0.7mg iron
INGREDIENTS
(1) 15-oz can black beans, rinsed and drained

3 eggs

3 Tbsp flavorless oil (i.e. canola or sunflower)

1 tsp vanilla extract

¼ cup unsweetened cocoa powder

2/3 cup sugar

½ tsp baking powder

¼ tsp salt

½ cup semi-sweet chocolate chips (or desired amount)
PREPARATION
Preheat oven to 350 degrees F (176 C)
Rinse and drain black beans. Put into food processor and mix until thick paste.
In a large bowl, mix together black bean paste, eggs, oil and vanilla extract.

In a separate bowl, mix together cocoa powder, sugar, baking powder and salt.

Add dry ingredients to wet ingredients and stir in desired amount of chocolate chips.
Grease an 8x8 inch baking pan and then place parchment paper inside.
Pour in batter and bake for 30 to 40 minutes. Check after 30 minutes with a toothpick (the center may be a little gooey and that's okay!). Cook for an additional 10 minutes for brownies that are more firm.
Allow brownies to cool for 5-10 minutes before cutting.
Enjoy!!
Eating healthy may play a role in cancer prevention. Many cancers are linked to excess weight. Healthy eating also helps people during cancer treatment and recovery. Chemotherapy, surgery, radiation therapy and other cancer treatments can take a toll on the body. They may affect taste, smell, appetite and the ability to absorb nutrients from food.
If you or someone you love is dealing with cancer, talk with your doctor or care team about what is best to eat and drink during cancer treatments. They may refer you to a dietitian who can help you with your diet during and after treatments.
Here are some living healthy basics you can apply:
Stay Hydrated
Your body needs a certain amount of liquid to function well. This is called hydration. Water, fruits, vegetables, smoothies, some soups, decaffeinated tea and unsweetened drinks are some examples for how to keep hydrated.
Eat Healthy
When choosing foods, try reaching for whole fruits, vegetables, legumes (like peas or beans) and other low-calorie options. Consider eating whole grains instead of refined grains. For example, choose whole-grain bread, pasta and cereal instead of refined foods like pastries, white rice or sugary cereals.
Check Nutrition Labels
Learn what to look for on the label. The US Food and Drug Administration (FDA) requires food companies to provide certain information on the nutrition labels printed on food packages. Nutrition labels can be filled with useful clues. When you eat something from a box, bag or fast food restaurant, look for options with less sugar, salt and calories.
Commit to Exercise
A doctor-approved workout may strengthen your body, improve your hormone levels and the way your immune system works. Even a little exercise to keep active can make a difference.
Stop Tobacco Use
Tobacco can cause cancer. There are benefits to stopping tobacco use at any age. Talk to your doctor if you are having trouble quitting the use of tobacco.
Plan Ahead for Travel
Pack healthy snacks for long trips or doctor visits. Try packing a small cooler with hummus and vegetables or apples and peanut butter. Or keep it simple with whole-grain crackers or trail mix. When you eat out, try to choose salads or grilled items instead of fried foods. When grocery shopping on the road, look for low-fat prepared meals, salads or rotisserie chicken options.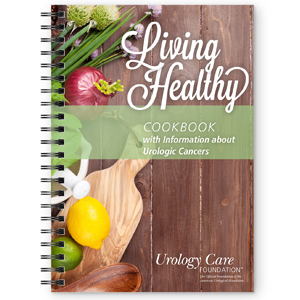 Cookbook funding and support provided by Pfizer Oncology.